October is Learning Disabilities and Dyslexia Awareness Month
This month we pay special attention to children and adults with learning disabilities. During October, Reading Rockets asks each of us to teach one person one new thing about learning disabilities. If you find an interesting article or resource here, consider passing it along to a friend, family member, or colleague.

We'll start by sharing this great resource on popular books for kids with learning and attention challenges.
---
---
From the FOLSOI blog …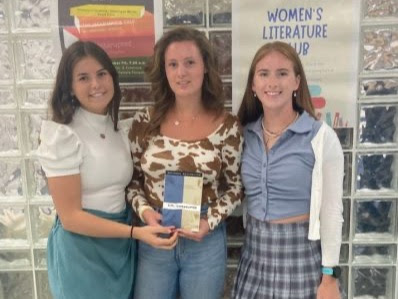 SBHS Women's Literature Book Club Forms
This article was written by guest authors Ashley Subach, Ellie Harrington, and Madison Mitchell, founders of the South Brunswick High School Women's Literature Book Club. 
In the 2022 school year, Ellie Harrington, Ashley Subach, and Madison Mitchell established the Women's Literature Book Club at South Brunswick High School. We wanted to help enrich the literary community at our school, in a way that focused on our direct vision and fostered in-depth conversations …  read more
---
Southport Book Festival: How a Story Becomes a Book
by Barbara Lemos
Many of us have stories in our heads that never make it onto the printed page. Those who do complete this mysterious process – including Jeff Siebold, Jean Heller, John Graves, and Teri Brown, the "Authors We Adore by the Sea" – shared their methods at FOLSOI's recent annual meeting. Here are some of the keys to writing success they shared at the meeting … read more
---
FOLSOI Book Festival Celebrates Another Great Year
by Barbara Lemos
This year's FOLSOI Annual Meeting and Southport Book Festival: "Authors We Adore by the Shore," was a success in anyone's book! We filled the Southport Community Center with attendees intrigued to hear from award-winning local authors Teri M. Brown, John Graves, Jean Heller and Jeff Siebold. … read more
---
Library News . . .
Libby by Overdrive is available to Brunswick Co. library patrons! Have you gotten the free app yet?
Have you discovered Libby by Overdrive yet? The easy-to-use app connects with your library card, and let's you search and borrow audiobooks and ebooks from your phone! Just download the Libby app from your phone or tablet and follow the steps to get started. 
---
FOLSOI news . . .
FOLSOI Treasurer Needed!
Friends of the Library Southport & Oak Island (FOLSOI) is a 501(c)(3) non-profit organization, and we are searching for someone to serve on our volunteer board of directors as Treasurer. Our board is a dedicated group of enthusiastic and generous people who believe in the value of our public libraries.
We seek someone who is comfortable with QuickBooks (or similar), issuing checks, making deposits, and handling our monthly financial reporting and budgeting. Ideally they will be available to attend (either in person or via Zoom) our monthly board meetings, held on the second Monday of each month at 10 am.

The position can be done remotely and the monthly time commitment is about 20 hours.
Interested? Please email us a short bio at friendsoflibrary910@yahoo.com.
Donor News . . .
Many thanks to our generous donors this month:
Robert DeGroof donated $100 to the FOLSOI general fund
John Graves donated $200 to the FOLSOI general fund
Jean Heller donated $200 to the FOLSOI general fund
Jeff Seibold donated proceeds from books sales to the FOLSOI general fund
Sharon Szabo made a donation to the Harper Library in honor of Kathleen Ragan's 70th birthday
Susan Thompson made a donation in memory of Edward Thompson, Jr.
Angela Dover made a donation to the FOLSOI general fund in honor of Kathleen Ragan's 70th birthday
Dorsey Nalor made a donation to the Harper Reading Garden in memory of Hank Steffens
Diani Johnson made a donation to the Barbee Library in honor of Kathleen Ragan's 70th birthday
Paul and Maureen Glassman made a donation to the Harper Library in honor of Kathleen Ragan's 70th birthday
Eileen Baker made a donation to the FOLSOI general fund in honor of Kathleen Ragan's 70th birthday
---
Member and Volunteer Update
Annual Meeting Sparks Membership Flurry
Thank you to all of the New and Renewing Members who have helped us kick off the new membership year!

29 – Friends ($10)
29 – Family members ($15)
13 – Patrons ($30)
5 – Sponsors ($50)
6 – Benefactors ($100)
8 – Lifetime members ($250)
90 total members ($3,965) 
Our goal is 300 members and $10,000… please consider joining or renewing if you haven't yet! 
Many thanks to these new and renewing members this month  (** denotes Lifetime Members)
Susan Albizu
Sharon Amrol-Davis
Lisa Anderson
Rebecca Baker
Diane Batounis
Kimberly Baxter
Carolyn Bowers
**Toby Bronstein
Patricia Brusko
Ann Holt
Vicki Caruso
Tina Clarke
Judy Connolly
Colleen Cooper
Lou D'Abramo
Mary Kay Dean
Barbara Dearry
Susan Dieck
Madonna Falk
Karen Ferris
Juan Findley
Art  & Jenna Fontaine
Michael Fotinatos & Maia Hutt
Liz Fuller
Nancy Fultz
Jean Gilland
Kristine Gluck
**Mary Gorman
**John Graves
Joyce Griffin
Carol Gryson
Julie Hackett
Prentiss Halladay
Bonnie & Kyle Harris
Teri Harrison
John & Jane Henderson
Vicki & Steve Henne
Karen Holbrook
Chet & Suzanne Holland
Linda Hudson
Anne Marie Hurcomb
Nancy Janovetz
Marcia Jarvis
Linda & Bill Jenkins
Phyllis & Walle Johanson
Barbara Johnson
Michelle Johnson
Bob & Betsy Johnston
Christine Khoury
Karis King
Kathy Kitchings
Judy Knight
Susan & Lyle Leuck
Deborah Lutkins
Natalie & Herbert Maxwell
Margaret McManus Melando
**Jennifer Metzler-Fiorino
Nancy C Minan
Cyndi Bailey Morgan
Carolee Morris
Sandra Mullins
Emma Myles
**Tammy Newton
Lisa Osborne
Cheryl Pagenkop
Julie Paladino
Dan & Sherri Parent
Carol Pearson
James & Janice Racca
**Kathleen Ragan
Helene Remer
Brenda Rewalt
Donna Richards
Levine Family
Deborah Schoch
**Mark Schuhl
Cheryl Serra
Carol & Jeff Sherman
Jeff Siebold
Donald Smith
Flora Solomon
Owen & Alice Sweeney
Lee-Ann & Doug Tobin
Nancy Tuck
Joanne Vintch
Jane & Don Warren
Helen Whittaker
Mark Williams
Gibby & Ben Wilson
**Heather Winterbottom
Volunteers log impressive hours last month!
FOLSOI reached a new high in volunteer hours in September: an incredible 703.5 hours! Preparing for and participating in the very successful Annual Meeting on September 13, combined with the many volunteers helping to repaint the Once More Bookstore, contributed to this new milestone. We are so fortunate to have such wonderful volunteers willing to give up their time to help the Friends of the Library!
Thanks for all you do.

Special thanks goes to three members of the FOLSOI board who are retiring after holding a variety of leadership roles over the years. 
* Donna Morgan has held the following offices over the past eight years; Vice President, President, Past President Ex-Officio,  and Ways & Means chairperson. 
* Diana Fotinatos has recorded an amazing 3011 hours since we started reporting volunteer hours in 2019; 432 hours since January 2022 alone. Over the past six years she has held the board positions of Vice President, President, Past President Ex-Officio, and Publicity chairperson. 
* Beth Klahre has served in the past five years as Board Secretary and was instrumental in getting the "Voice of the People" strategic planning initiative off the ground. All three women willingly helped with anything that needed to be done for FOLSOI, regardless of whether it fit into their job description. We are grateful! We will miss you!
---
For Our Younger Readers
Join Harper's Birthday Book Club!
Celebrate a child's birthday AND support Harper Library
 Create lasting memories by sponsoring the purchase of exciting new kids' books for Harper Library that will celebrate your child! Your child's birthday month, librarians will choose a new book matching your child's age range. A bookplate dedicating the book in your child's honor will be placed inside; your child will get a birthday card acknowledging the gift made in his or her name. Birthday Club donations are $20 per child.
Contact Tammy Tackett or call 910-457-6237.