November is Native American Heritage Month

This month we celebrate and learn about Native Americans and Alaska Natives. During November, Reading Rockets encourages us to explore the rich history and traditions of Native peoples with children's books, activities, and more. If you find an interesting article or resource here, consider passing it along to a friend, family member, or colleague.
We'll start by sharing this great resource on American Indian Youth Literature award-winning books.
From the FOLSOI blog…
.

An Affair to Remember: Meeting Author Nina de Gramontby Barbara Lemos
As fog enveloped the 801 Ocean Event Center, over 130 attendees gathered for a very special "Meet the Author" program featuring New York Times bestselling author Nina de Gramont discussing her book, The Christie Affair. Blending historical fiction, mystery, romance… read more



Meet Charles Oldham, Historical Crime Writer
by Patricia Langer
Despite some gusty rain and the impending threat of Hurricane Ian, it was another full house at Harper Library last Thursday for FOLSOI's popular Meet the Author program. Even the author's mother came down from Sanford to support her son, proving you're never… read more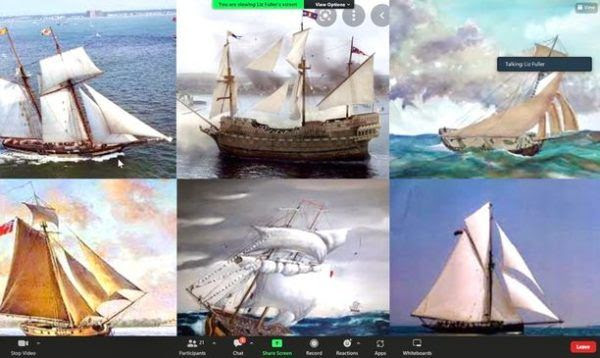 Pirates in the Room, Pirates over ZoomBy Barbara Lemos
The Barbee Library Max and Sarah Williams Life Long Learners have once again made history with the launch of hybrid presentation capabilities offering concurrent "in-library" and "via Zoom" participation options. This week, Southport Historical Society President Dr. Liz Fuller regaled…. read more



For Our Younger Readers … Join Harper's Holiday Book Club!

Introducing…. the 2022 Harper Library Holiday Book Club! Honor a special child in your life this holiday season with a donation to Friends of the Library Southport & Oak Island! Details can be found on the form by clicking here!

For questions and information contact Tammy Tackett or call 910-457-6237.
Library News
.
Don't miss this great article in the South Brunswick Magazine on the new outdoor reading benches at G.V. Barbee Library!
A Gift for Readers
by Beth Klahre
St. James Woodworkers build replica Ukrainian benches for G. V. Barbee Library on Oak Island.
When Friends of the Library Southport & Oak Island (FOLSOI) heard that the St. James Woodworkers were looking to partner… read more
FOLSOI News:
Help us collect new and gently used children's books for the holidays
You can help FOLSOI and the South Brunswick High School (SBHS) Women's Literature Book Club collect new and gently used children's books for a special Holiday Book Drive. The books will go to Novant Hospital for their pediatric unit. Collection boxes can be found at the St. James Community Center, the Painted Mermaid, SBHS, and Harper Library. The drive will end November 30.
Friends of the Library Southport & Oak Island (FOLSOI) is a 501(c)(3) non-profit organization,
Donor News:
Many thanks to our generous donors this month:
$1,200 donation from the Southport Lions Club for audiobooks at Harper
Cindy Phillips donated in honor of Diana Fotinatos
Mary Gretton donated to the Harper collection in memory of Nadine Hall
Beth Ann Klahre donated in honor of Cindy Phillips and Carol Brolley
Barbara Sammons made an in-kind donation of note cards
Roseann Luipersbeck donated to the FOLSOI general fund
Raffle basket winners from Nina deGramont Meet the Author event

Patty Langer, Program Co-Chair and the board of FOLSOI would like to give a big THANKS to the donors and CONGRATULATIONS to the winners of the fabulous Raffle Baskets for the Nina de Gramont Meet the Author event at 801 Ocean: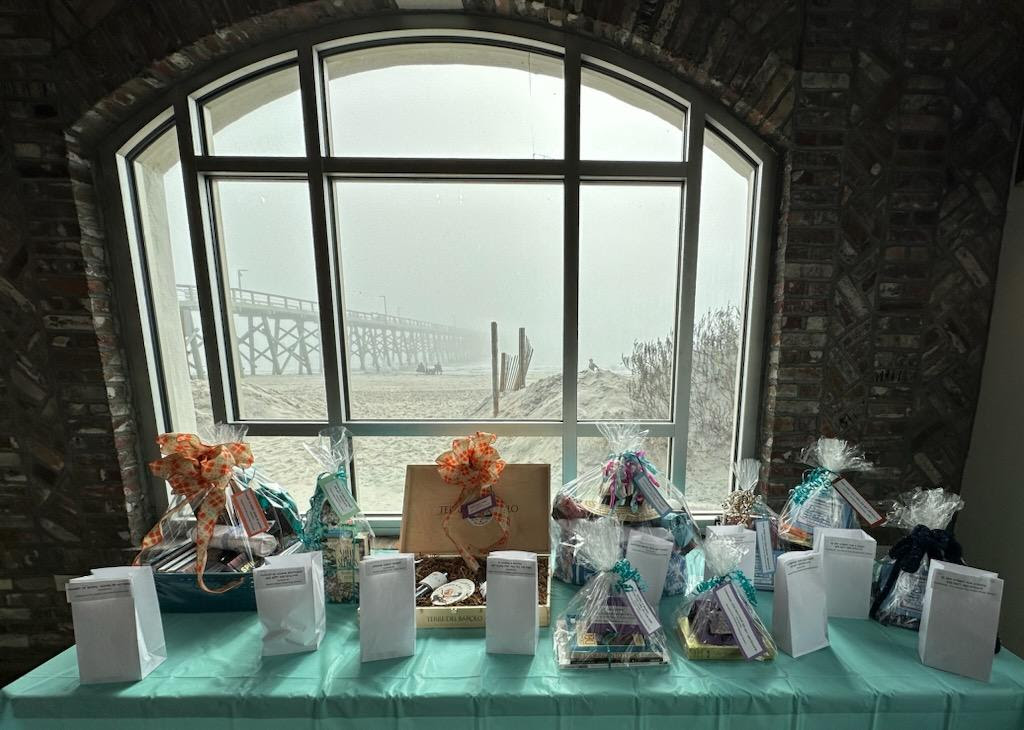 FOLSOI Basket of Books won by Linda Block
Coastal Charm Boutique gift certificate won by Sandra Mulin
Grape Ale Wine Basket won by Valerie Pease
Stylish Beach Bum Basket donated by the Ocean Crest Fishing Pier, won by Donna Roundy
Art Class on the Pier for Two donated by Nancy Tuck, won by Marian Stevens
Mermaid Cove Boutique gift certificate won by Debbie Allison
Dry Street Pub & Pizza gift certificates won by Judy Koehly, Linda Fossetta, and Nancy Scott
Cozy Up for a Good Read Basket donated by the Sandy Pages Book Club, won by Kathleen Jewell
All In Bloom gift certificate won by Lisa Fosbury
School Kids Records gift certificate won by Lynne SniffenIsland
Island Jo's Coffee gift certificate donated won by Richard Guiger
Uncorked By The Sea Basket won by Barbara Koukar
Hippie Chick Granola Basket won by Marybeth Althaus
Cat on a Whisk, Southern Cooking Basket won by Julie Arciszewski
The Christmas House Smells Like Fall Basket donated by Ann Endres, won by Linda Pukenas
Fitness Fun donated by the Town of Oak Island Rec Center, won by Marcie Quealy
Member and Volunteer Update
Our Membership Continues to Grow
Many thanks to these new and renewing members in October (** denotes Lifetime Members)
This represents $2,280 raised for programs, special collections, summer reading, and other library needs.

Roberta Altman
Phyllis Amori
Lisa Blyer
Lori Boyer
Donna Valponi Brookhart
Diane & Lee Butzin
Leigh Courtney
** Jacqueline Crabtree
Diane Edmunds
Dennis & Phyllis Falkenstein
Kathy Fleming
** Susan Frost
Ann Marie Geiger
Debbie Goodwin
Mary Gretton
Kiki & Bobby Herr
Kathy Hummel
Patricia Langer
Claire & Jim Lavin
Nancy A. Leoncararallo
Carmen Medellin
Terry Mogavero
** Yvonne Moody
Jayne Pavlik
Ellena Reda
Pamela Scottenfeld
Betsy Smith
Sally Spalding
Hank & Judy Steffens
Janet Thompson
Kevin Wall
** Diana Weaver & WM Sutton
Priscilla Zambor

Volunteers log impressive hours last month!

In October an amazing 558 hours were reported by FOLSOI volunteers. Special kudos to our newest volunteers: Marian Dieter, Susan Frost, and Lynne Sniffen. Thanks for all you do for FOLSOI!